Jeff Goldblum books a room at The Grand Budapest Hotel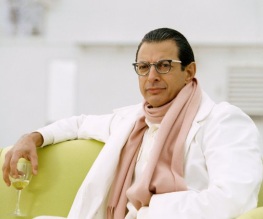 Jeff Goldblum has signed on for a role as part of Wes Anderson's latest ensemble, The Grand Budapest Hotel. Goldblum will join Saoirse Ronan, Jude Law and Ralph Fiennes alongside Anderson stalwarts Bill Murray and Jason Schwartzman in the Europe-set comedy.
Details are thin at this point, but Anderson has revealed that the story will focus on a "perfectly composed" hotel concierge with psychic abilities. It might sound like a relic of awful 1980s television, but Anderson has a great track record of late, with this summer's Moonrise Kingdom proving a vast commercial and critical success. And of course, the guy knows his hotels. Possibly the one redeeming feature of best-forgotten imperial jaunt The Darjeeling Limited was the preceding short, Hotel Chevalier, fondly remembered for its inclusion of Natalie Portman's arse.
Jeff Goldblum is no stranger to Anderson-land, having played millionaire nemesis Alistair Hennessey in The Life Aquatic With Steve Zissou. Both share a similar brand of expertly-concocted theatricality, so Goldblum's stay at The Grand Budapest Hotel seems a natural fit.
Perhaps inspired by The Best Exotic Marigold Hotel, with only a few nuggets of plot info we can only speculate that Wes Anderson is sculpting a new wave of genteel location-specific accommodation-based filmmaking. We love a good micro-genre. While we wait for more details, enjoy some Goldblum noises.
About The Author