Jena Malone confirmed for Catching Fire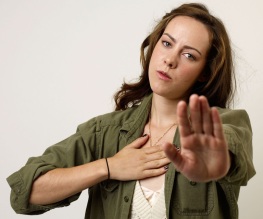 FINALLY. Following weeks of suggested names as disparate as Mia Wasikowska, Zoe Aggeliki and Robert Pattinson (wait, perhaps he was up for another role), Jena Malone has been named as naked axe-wielding badass Johanna Mason in The Hunger Games sequel Catching Fire.
The Sucker Punch star will have a significant role in both Catching Fire and final instalment Mockingjay, as her character goes from being a bloodthirsty rival to Katniss (Jennifer Lawrence) et al to [SPOILER] a significant player in the District 13-based resistance against blood-smelly Donald Sutherland and the Capitol.
The entire lead cast from The Hunger Games (minus the ones who died, obviously) will be returning for the sequel, so if you're not a Jena fan you can always distract yourself with Josh Hutcherson or Liam Hemsworth. Or both. Is it too early in the day for a little lie down?
Do you have a strong opinion on Jena Malone? Can we borrow it?
About The Author