Aniston at Centre of Wanderlust Boob Dispute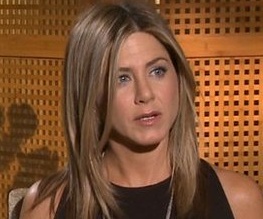 Fans of Jennifer Aniston's tits were thrown into a confusing maelstrom of  joy, fear, anger and excitement this morning as conflicting reports shot up from various sites around the web featuring claims and counter-claims regarding whether or not the ex-Friends star's mammaries would be making an appearance in Wanderlust. Produced by Judd Apatow, directed by David Wain (Role Models) and co-starring Paul Rudd, Aniston's latest hits UK cinemas on March 2nd but the main media hype surrounding the comedy over the last few days has been firmly centred on whether or not her topless shots would be in the final edit.
"Jennifer Aniston OK with Wanderlust Topless Scenes" proclaimed M.S.N. yesterday, sparking relieved celebration across the globe, before quoting Aniston as saying that though she was "nervous" about the scenes "we've been among these people in this environment for almost two months…The topless scene was nothing compared to what happened in the two months prior."
But oh no! At 11am this morning Yahoo Movies came along with a big bucket of piss to callously hurl on the bonfire of the lonely and depressed everywhere with the news that "Jennifer Aniston Demands Wanderlust Topless Scene is Cut". Apparently the star's spoilsport boyfriend Justin Theroux, who also appears in the upcoming comedy, demanded the shot sequence be re-edited to show Ansiton from behind, as opposed to the full frontal version that appeared in the first cut.
So what is the truth? What exactly is the TRUTH? And, more to the point, who cares?
Having not yet seen Wanderlust we cannot confirm whether or not Aniston's boobs would have improved the viewing experience, though it is probable they make for a more charismatic screen presence than Paul Rudd.
About The Author