Jim Carrey And Jenny McCarthy Split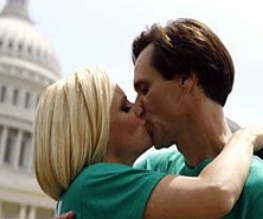 Jeepers. And here we were thinking Easter was the time of fertility. It's been reported officially that Jim Carrey and his girlfriend of five years, Jenny McCarthy, have decided to break up. This marks yet another celebrity split, making us wonder if all this bunnies and eggs stuff is actually more of a curse than anything else.
Apparently, Jim tweeted the news (who doesn't, nowadays?) last night, stating that he wished Jenny "the very best". No one ever tweets "I hope she chokes on her face and dies", do they? McCarthy has been equally politically correct about the whole thing, stating "I will continue to be in his daughter's life and will always keep Jim as a leading man in my heart,"
Oh dear, oh dear. First Peter and Jordan, then Cheryl and Ashley, and Tiger and Elin. Not to mention Mark Owen and his wife, Kate Winslet and Sam Mendes, and, of course, Dawn French and Lenny Henry. The season of the celebrity spilt is very much upon us, is anyone safe?
Poor old Jim and Jenny. Who will be the next celebrity split? Let us know what you reckon below…
About The Author