Joaquin Phoenix joins new Kaufman / Jonze project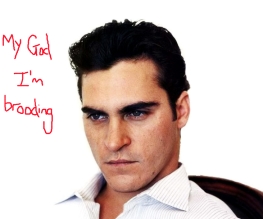 Rumours of a new project that would reunite the screenwriter / director super-team that is Charlie Kaufman and Spike Jonze have been circling for some time, and now it has been announced that Joaquin Phoenix has attached himself to the project, with Warner Brothers coming in too to lend some financial muscle.
Unfortunately, details regarding the film are being kept under wraps. The only plot outline that has been revealed describes it as a "satire about how world leaders gather to figure out all the seismic events that will take place in the worlds, from oil prices to wars that will be waged" – a contemporary take on Dr. Strangelove? If anyone could do it, these two could.
Jonze and Kaufman have had a fruitful relationship in the past, collaborating on Kaufman's breakthrough script Being John Malkovich, and then again on the wonderful Adaptation. This is also the first news we've heard of Phoenix since his stranger-than-fiction mockumentary I'm Still Here was released last year, and will be his first time working with either Jonze or Kaufman. As an actor who gives everything to his roles, we can only predict that good things will come of this.
About The Author