Pirates! In An Adventure With Scientists looks ABSOLUTELY BRILLIANT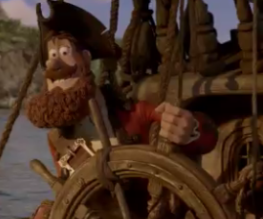 Gosh, Aardman don't waste any time, do they? With yesterday's release of the Arthur Christmas trailer, we thought they might hang up their boots and have a lovely relaxing sandwich for a bit, but LO AND BEHOLD, today we've got something even better: the first trailer for their latest stop-motion (yay!) feature, Pirates! In An Adventure With Scientists. It honestly couldn't look more fantastic.
Based on the first in a series of books by Gideon Defoe, Pirates! In An Adventure With Scientists follows a hapless band of 19th Century pirates on their inevitably doomed quests. We don't know that much about the in and outs of the plot, but we can say that if the film is faithful to the book, the rag-tag team (led by an apparently grisled Hugh Grant) will stumble across Charles Darwin, and help him defeat his SCIENCEY ENEMIES HURRAH! We cannot imagine a better company than Aardman to take on this sort of rip-roaring, ridiculous adventure, but it's not out till next year so don't don your massive shoes and even more massive hats just yet.
SWORDS AND SALMA HAYAK AND PLASTICINE! Are we just easily pleased? Cry with joy along with us below…
PS. Desperate for more? Head on over to The Guardian website for more footage, and a brilliant song. In particular listen out for cheek-achingly lovely V/O lyrics including "there's a fish in a hat and the last dodo… Charles Darwin and his monkey Bobo" "this is a song about a pirate sailor, and we're singing in this trailer"…
About The Author