Joss Whedon is Officially Directing The Avengers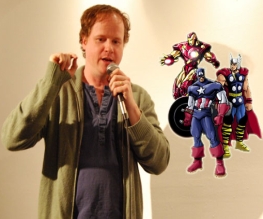 Joss Whedon has officially confirmed what we all unofficially knew: he will be directing The Avengers.
The Buffy the Vampire Slayer creator announced at Comic-Con:
"It's a little early, I'm still writing an outline. I will say that the thing that I love about it is how completely counter-intuitive it is – it makes no sense, these people should not even be in the same room. And that, to me, is the very definition of family."
The news was broken while he was on stage with J.J. Abrams in San Diego today. Whedon joked that he was confirming the news himself because Marvel didn't have enough money for a press release.
The Marvel comic-strip brings together some of the world's best loved superheroes, such as Hulk, Nick Fury, Captain America and Thor.
The talented writer and director has a lot of work on his hands with such a fusion of major characters, but he is confident that The Avengers will be one of the biggest superhero movies of our time. We don't doubt that when the film is finally released in 2012 he'll have created something well worth waiting for. Until then, sit tight!
About The Author