Sucker Punch character posters released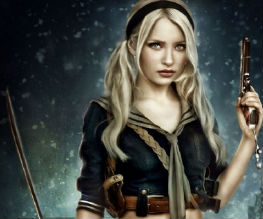 Fans that have been salivating in anticipation over what Watchmen director Zack Snyder will do next should be prepared to salivate further, as 6 sexy character posters for Snyder's up and coming Sucker Punch have been released.
Set in a mental institution in the 1950's, the story follows Baby Doll (Browning) a mental patient, seeking to escape from the pain caused by her evil step father and an impending lobotomy. In order to cope, she disappears into the fantasy world of her imagination, where she needs to steal five objects to escape her fate. She has five days before being lobotomized. Joined by a selection of sexy fellow crazies, fantasy bleeds into reality and the lesson they learn in their dream world could help the girls escape their strait-jacketed fate.
Snyder has described it as, 'Alice in Wonderland with machine guns,' telling us can expect to see, 'dragons, B-52 bombers and brothels,' existing alongside each other in Baby Doll's fantasy world.
Still not convinced? Perhaps the girls can help – check out the character posters for Baby Doll (Emily Browning), Amber, (Jamie Chung), Sweet Pea (Abbie Cornish), Madam Gorski (Carla Guigno), Blondie (Vanessa Hudgens), and Rocket (Jena Malone). We like Sweet Pea. She has a big sword.
Sucker Punch will be released March 25 2011.
About The Author