Julie Taymor flees Spider-Man: Turn Off The Dark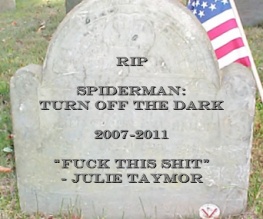 The Tempest director Julie Taymor has finally jumped ship as the official opening night of cursed Broadway musical Spider-Man: Turn Off The Dark is delayed for an extraordinary sixth time.
The show, which is easily the most expensive in Broadway history with more than $65 million already blown on elaborate stunts (plus running costs of $1m a week), was originally scheduled to open last February.
However, even that date was set after an initial slew of delays which had dogged the production since its first readings in 2007. That's Two Thousand and Seven, folks – can you even remember 2007? Best For Film was still at school in 2007. Since February 2010 the opening date has been amended to December, then this January, then February, then March – the "final postponement", according to producer Michael Cohl.
The excitingly specific opening night for the rock opera (scored by Bono and The Edge! Gosh!) is now 'an evening in early summer 2011', and we can assume that unofficial previews will continue to run for most of the intervening period. Last night's show was the 101st preview performance (Wicked had 25), and Turn Off The Dark could easily hit 150 before it officially opens – it'll need to if that extraordinary cashflow has to be maintained, although when the New York critics' brigade collectively broke the embargo on reviewing preview performances they did so with singular venom. One wonders who will still be interested in June…
About The Author