Just When You Thought Hollywood Had Run Out of Ideas…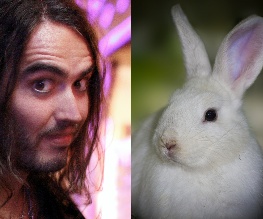 ..Along comes I Hop, the story of a bumbling slacker who accidentally runs over the Easter Bunny and must then nurse him back to health and save Easter. No, we're not kidding. We wish we were.
The zany family comedy starts shooting this autumn, and guess who's directing? It's none other than he who is responsible for the locust plague that was Alvin and the Chipmunks, Tim Hill.
But before you take to your window ledge, screaming, "That's it! I can't take it anymore!", this one might not actually be that bad. We mean, bad like compared to Big Momma's House 3. This particular Easter Bunny might not be so cutesy and irritating as those goddamn chipmunks – he's being voiced by Russell Brand.
The oddball comedian (or his voice, anyway) will join forces with the likeably bland James Marsden as Fred, the aforementioned slacker-slash-reluctant hero. While acting as the bunny's partner in doling out the eggs and whatnot, Fred must also take in the injured bunny as a houseguest, and it turns out he's not the easiest animal to live with in the world. (Cue Brand-related jokes about shagging like rabbits – oh, the possibilities are endless).
Pros – it's got Brand on board, and the script is being penned by Ken Daurio and Cinco Paul, who wrote upcoming star-studded animation Despicable Me. Cons – the plot is horrifyingly lame, it's loosely associated with Alvin. Hmm, we're undecided. Best wait and see if Brand and Co can pull a rabbit (tee-hee!) out of a hat. Sorry, couldn't resist.
Does the thought of I Hop fill your very soul with creeping dread, or are you pervertedly intrigued to see the results of a Brand/Marsden pairing? Hop along into the comment box and let us know. Okay, seriously, we'll stop now.
About The Author