A Prophet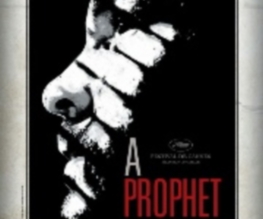 Blazing onto the cinema screens this week is A Prophet, the latest film from The Beat That My Heart Skipped director Jacques Auidiard grabs you from the start, pulls a burlap sack over your head and doesn't let up with its intensity and drive for any one of its 155 minutes. A gruelling masterclass in taut, engaging and wholly believable cinema, A Prophet is one release that's going to be essential not only for fans of crime drama, but also those who like to take their cinema seriously.
Malik's Art
[FLOWPLAYER=http://uk.clip-1.filmtrailer.com/3743_9240_a_3.flv,275,180]
The plot's pretty epic and long-ranging, and to go into too much detail would undermine what happens as the film progresses. But to give you a quick outline – and whet your appetite to go and see a truly astounding film – A Prophet starts off with Malik El Djebena (Tahir Rahim) arriving in prison for an unspecified crime. Malik's naïve, illiterate and more than a little shell-shocked, entering the big house like the proverbial mouse at the lion's jaws. It's not long – in fact, it's only during his first trip to the exercise yard – before Malik's wide-eyed wetness round the ears is noticed by César (Niels Arestrup), a Corsican mobster with a network of contacts and influence throughout the prison. Another prisoner is threatening to expose César's connections, and so the ageing mobster offers Malik – and this is nowhere near as clichéd as it first appears – an offer he can't refuse.
Cue Malik's internal turmoil as he weighs up killing against his own personal survival. Then there's the method of execution – and when Malik finally decides, his "rehersal" of the act itself is a truly heartstopping moment – believable, grim, and above all real. It's certainly not a sequence for the squeamish. Soon, Malik finds himself on the inside of the inside – no longer a hapless outsider, he begins to move in the Corsican's circles, all the while making new connections of his own.
It'd be easy to dismiss A Prophet as a simple, prison-set crime thriller, and while the films works admirably in that constricting genre, it manages to escape and surpass its limitations with an energy and imagination that's unlikely to be seen elsewhere. Rahim and Arestrup both put in stellar turns as the young inmate and his increasingly powerless mentor. The entire film hinges on the evolution of their relationship, and its one that's played intelligently, believably and intensely by both actors. Audiard's direction is also key – the pace is fantastic, gathering up the tension without relying on ridiculously overblown action sequences or pointless raising of stakes.
There's also a strong vein of thematic richness running through A Prophet, as it tackles questions of race and institutionalisation (certainly not the easiest of topics) with a deft intelligence and ingenuity. As an Algerian Muslim, Malik straddles various groups in the prison, an ability soon noticed by an increasingly-troubled César. Malik's descent and eventual acceptance of a criminal lifestyle is as powerful as it is realistic. Even when the film takes a slightly surreal direction, skirting ever so slightly with the supernatural and explaining the film's title, it's never any less than utterly absorbing and gut-wrenchingly visceral.
Intelligent, accomplished and beautifully shot, A Prophet is everything a fan would want from a crime thriller, and so very much more. Easily the best thriller so far this year, and maybe for the rest of the year ahead.
What did you think of A Prophet? High quality crime drama or high-falutin' tosh? Leave us your thoughts in the comments box below!
About The Author