Justin Timberlake offered role in new Coen project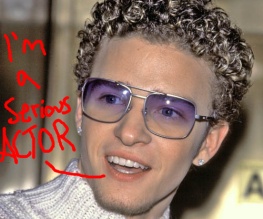 Mouseketeer, singing person, dancing person and (recently) actor Justin Timberlake has reportedly been offered a major part in the Coen brothers' current project Inside Llewyn Davis, a film set in New York City's arty/bohemian/[insert pretentious adjective here] Greenwich Village during the 1960s.
Yep. Didn't see that coming, did you?
Timberlake, who was critically acclaimed for his performance in The Social Network, has recently hit the big time with roles in Friends With Benefits and In Time (which is nonsensical; see our review, due out later today). Something in that CV has evidently tempted Joel and Ethan, who have reportedly offered him the supporting role of folk singer Jim, who is married to Carey Mulligan's Jean.
The title role, which is apparently based on real life folk singer Dave van Ronk – hell of a name, that – has gone to Oscar Isaac (Sucker Punch, Drive). No word yet on whether JT's considering the offer, but after a couple of naff choices this year we can't see him turning down a big serving of Coen credibility.
What do you make of the Coens' choice? Let us know below!
About The Author