Kate Winslet fails to save Michael Caine from disused theatre attic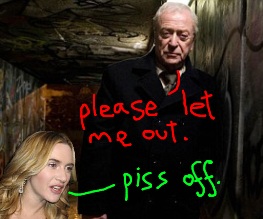 Fans of veteran actor Sir Michael Caine were shocked and appalled today when it emerged that celebrity heroine Kate Winslet had failed to rescue him from being trapped in an attic.
The 79-year-old was imprisoned whilst having a quick nap in the attic-cum-dressing-room of a disused New Orleans theatre.
Sir Michael had spent a long day of working on new heist film Now You See Me and retreated upstairs for forty winks, but when Clash of the Titans director Louis Leterrier called a wrap the venerable star failed to awake. Bereft of his mobile phone, he was trapped overnight with no electricity or sustenance in the pitch black attic.
Caine's accident looks like just that, an unfortunate cock-up with no malicious angle. But where was Kate Winslet, the former actress who now dedicates herself to rescuing vulnerable rich people like Richard Branson's mum? Insiders suggest that Winslet may be harbouring a decade-old grudge against the actor (who shares her total of six Oscar nominations but has won two awards to her one) – in the 2000 film Quills his character Doctor Royer-Collard ordered the whipping of her character Madeleine. Could this slight have been justification enough for Winslet to potentially condemn a knight of the realm to having to poo in a corner? We just don't know.
Lesser heroes including Mila Kunis and Ryan Gosling were unavailable for comment. Much more of this and Sir Michael will have to start borrowing Dick Van Dyke's dolphins…
Will you be boycotting Kate Winslet's films in solidarity with Sir Michael?
About The Author