Katharine Hepburn film State of the Union to get remake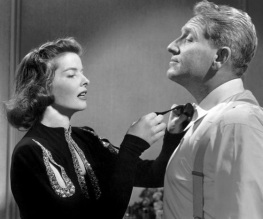 Now seems to be a golden time for political dramas. Lincoln has cashed in at the box office, despite mainly being a film of a tense dry debate. House of Cards seems to be smashing it over on NetFlicks. In recent years we've had Frost/Nixon and The Ides of March. Maybe it's no surprise that Identity Films/Flat Penny Films are remaking Frank Capra's State of the Union, based on Howard Lindsay and Russell Crouse's Pulitzer-winning play.
The original 1948 film starred Spencer Tracy as an industrialist running for President with the backing of Angela Lansbury's wealthy newspaper magnate. His long-suffering wife was played by Katharine Hepburn. Doesn't sound like it should be too difficult to update the story for a modern retelling, what with the obvious parallels with News International, Fox, the bought-and-paid-for Republican (and Democratic, to be fair) Party.
Let's hope they manage to get a good cast and a screenwriter in the Alan Sorkin mode. He could do this sort of thing on the back of an envelope on the way home from an environmental fundraiser with a few organic martinis and a legal spliff in him, we imagine. Sean Penn and Jessica Chastain would be good shouts. Or Denzel Washington and Christoph Waltz…We're spit-balling here but should be good, hopefully.
Any other good old-fashioned political pictures that could do with a remake? All the King's Men was pretty good, and Sean Penn could…oh wait. Yeah.
About The Author