The Hobbit and Wolf of Wall Street: new release dates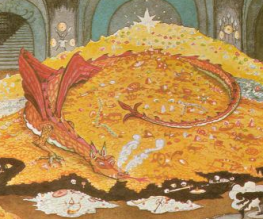 BIG DRAMATIC NEWS: the finale to Peter Jackson's Middle Earth smackdown The Hobbit: There and Back Again has been pushed from July 18, 2014, to December 17, 2014. The good news is that it'll make a fantastic Christmas present for all rampant Hobbit fans, the bad news is that you'll have to wait another 5 months before The Hobbit trilogy comes to a close. But look on the bright side: that's another 2 years of dragons and Gandalf. Ace!
The other picture being given a new release date is Martin Scorsese's The Wolf of Wall Street, which has been confirmed all polished and ready for the next big Oscar race – landing in cinemas on November 15, 2013. Leonardo DiCaprio takes the lead, giving him a rather handy/convenient running for best actor, best all-round guy etc, especially with The Great Gatsby also due for release in May. Jonah Hill, Jon Favreau, Jean Dujardin, Matthew McConaughey, Kyle Chandler, Rob Reiner and sooo many more names are also set to star in The Wolf of Wall Street. It's gon' be big.
Seeing as you've already got your diary out, here are some more quick changes for you to sketch in. Kick-Ass 2 moves from June 28 to August 2, while some movie with Ryan Reynolds and Jeff Bridges called R.I.P.D. is due out on July. Now in 3D. Woah.
But don't fret Tolkien/Jackson fans, The Hobbit: The Desolation of Smaug will hit YOUR cinema in December this year.
What film are you most looking forward to? Want to see The Hobbit win an Oscar? Or Peter Jackson? ControVERsial. Let us know!
About The Author