Kathryn Bigelow vs Bin Laden in new Zero Dark Thirty trailer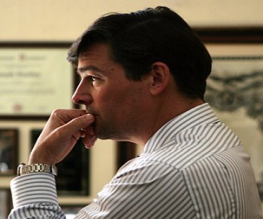 Kathryn Bigelow, the director of The Hurt Locker, starring Jeremy Renner, was the first woman to ever win Best Director at the Academy Awards. Giving ex-husband James Cameron what-for ever since, Bigelow's been a busy bee indeed while Cameron's writing a word a day on the script of Avatar 2. Once more taking on the mantle of the chief wartime-storyteller of our generation, Bigelow's Zero Dark Thirty tells the story of the culmination of the world's most significant manhunt; that of Osama Bin Laden. See the unnerving trailer below:
Far from the scene we had envisaged, which involved a little old lady giving the CIA a bell and asking what she should do if her village was harbouring a terrorist and his family, and also enquiring after her recycling days, Zero Dark Thirty shows the CIA in turmoil, an frantically human desire to find the world's most dangerous man from the Navy SEALs Team Six, and the sort of view into American military practice you're pretty sure they don't want you to see.
For a film out so soon (around January in the UK), we know precious little about it; scriptwriter Mark Boal (The Hurt Locker) seems happy with it this way. There's apparently no political agenda whatsoever in the story, the president doesn't even appear, and the project seems to be like Bigelow's previous work, a dedication to the truth.
Starring Kyle Chandler (Super 8), Jessica Chastain (The Help) and Joel Edgerton(Warrior), we cannot wait for Christmastime 2012.
About The Author