Luke Evans confirmed as Fast 6 villain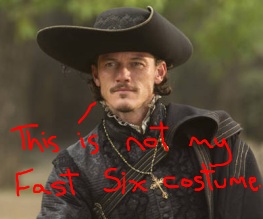 Following on from last week's news that Hobbit star Luke Evans was being considered for the role of principal baddie in Fast and the Furious sixquel Fast and Furious 6 (I know, right?), we now have confirmation that he has been offered a starring role in the forthcoming action film and is currently in negotiations with Universal.
The unexpectedly successful Fast Five was widely seen as an attempt to move the franchise away from street racing and towards the ever-popular 'heist film' model, and it sounds like Fast Six will continue the trend. The film will see Vin Diesel and his gang of glamorous yobs travel to Europe to pull off a big job – the only trouble is, a rival gang led by Evans has its sights set on the same prize. DRAMA!
Jason Statham reportedly turned down the role, which will require filming in London and Berlin, but after sorting out his commitments in Middle Earth Evans will jet more or less straight from Peter Jackson's New Zealand set to the mean streets of wherever The Rock is that day.
Do you like Luke Evans? Tell us why below, we just can't warm to him.
About The Author