Marvel exec Craig Kyle to co-write Thor 3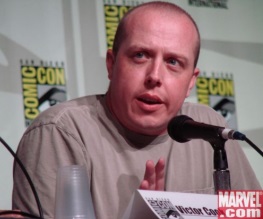 Why does Marvel news always ending up coming out in a glut? This week we've seen dozens of new X-Men characters, heard that Captain America 3 is virtually set in stone, and now we're being bombarded with more stories – except these ones are coming direct from Asgard.
Craig Kyle, Marvel's senior VP for Production and Development, has been named as the co-writer of the unnamed Thor threequel. He will be working with frequent collaborator Chris Yost, who got his first screenwriting credit on Thor: The Dark World but has been heavily involved in scripting the various Marvel animated series for years.
Thor 3 is likely to be released on either May 6, 2016 or May 5, 2017, once 2015's The Avengers: Age of Ultron has been ticked off and we're into Marvel Phase Three. It'll be far too early for Ant-Man 2, so we're guessing that the two slots will be fought over by Thor 3, Captain America 3 and Doctor Strange.
We've never watched Earth's Mightiest Heroes (although it's waiting on Netflix for the day we're too hungover to contemplate live action), but a credit for Thor: The Dark World is hardly the sort of pedigree we're happy with for a debut Marvel writer. Fortunately, it's a few years before we need to worry about Kyle and Yost ballsing up Thor's third adventure.
About The Author