Matrix 4 and 5 in the pipeline. WHY?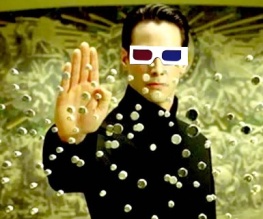 Keanu Reeves has disclosed that he met the Wachowski brothers over Christmas to discuss development of the fourth and fifth instalments in the Matrix saga. Instalments which will be in 3D.
Why, Andy? Why, Larry? Why do you have to torture us so? The Matrix was a cracking film, nobody's arguing the point there, but Reloaded was a disappointment and nobody over the age of ten has ever finished Revolutions.
James Cameron, who has apparently been appointed High Priest of 3D, is reportedly consulting with the Wachowskis to pass on his ancient wisdom on the subject of making bullets jump out of the screen and big black coats swirl around so you can almost touch them. Woooo. And just to add to the complex goulash of disillusionment, Keanu has also stirred in a big dollop of dodgy sour cream with his insistence that the next two films in the trilogy will redefine the genre to the same extent that the original did way back in 1999. That's just insulting nonsense, really, isn't it? We preferred you when you were just making films about lesbians, boys.
About The Author