Matthew Lillard to direct Fat Kid Rules the World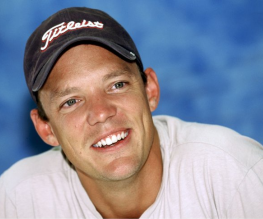 If you've been wondering what Matthew Lillard has been up to since his uncanny impersonation of Shaggy on Scooby-Doo, you might be surprised to learn he's hung up his acting…um…garters, and has taken to sitting in the director's chair. Matthew Lillard will be releasing his directorial debut in early October,with the awesomely titled Fat Kid Rules The World. The plot follows the life of an overweight teenager who is on the brink of suicide when a punk rocker picks him to join his band. Check out the trailer below.
Matthew Lillard has been working on this film for almost a decade, even going so far as to launch a Kickstarter campaign to get the funds required to produce it. The film is based on the popular young children's novel of the same name and Matthew Lillard has been very outspoken about his appreciation for a lot of the themes it deals with, such as bullying and depression. The actor-turned director views this film as a labour of love that seeks to extol the virtues of being an underdog and we are looking forward to it.
Matthew Lillard hasn't really been on our radar for a long time, and this surprising move into directing is well..surprising. We don't feel equipped to make a judgment call on Matthew Lillard's directorial potential just yet, but we've watched this trailer a few times and we really like what we're seeing. High-school bullying isn't a topic we often see dealt with on the big screen and we're hoping Matthew Lillard has the talent to tackle it in a constructive way.
What Do You Think Of The Trailer?
About The Author