Star Trek Into Darkness first footage revealed!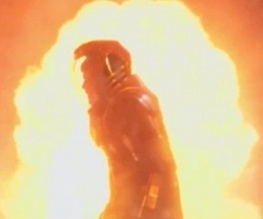 Star Trek Into Darkness – the sequel to J.J. Abrams' hugely successful reboot of the Star Trek franchise – isn't due out until May 2013, but Abrams has released an early glimpse of some footage. Sort of.
Appearing on Conan O'Brien's chat show in America to promote his new TV series Revolution, Abrams couldn't help but tease the world about Star Trek Into Darkness. Announcing that, given that he and Conan are friends, he wanted to do something nice for his show and bring along a first Star Trek Into Darkness clip, excitement was – understandably – through the roof! However, Abrams, the little tease that he is, went on to confirm that Paramount would only let him bring a very short clip. Very short. Three frames, to be exact.
You can view the clip here – skip to 1min 45secs for the action!
Still, new Star Trek is new Star Trek! So let's analyse.
HOLY FUCKING SHIT WHY IS SPOCK IN A VOLCANO? WHAT'S WITH THAT WEIRD HELMET? IS IT FIRE-PROOF? I HOPE IT'S FIRE PROOF BECAUSE WHAT'S WITH THE BIG FUCKING FIREBALL COMING RIGHT AT HIM?! OH GOD, RUN SPOCK, RUN! WHY ARE YOU EVEN IN A VOLCANO? MORE LIKE VULCAN-O, AMIRIGHT?
Okay, okay, that's enough of that. There's not much to analyse, here, we know. Nothing about the plot of the Star Trek Into Darkness has yet been revealed, but we now know that apparently at some point, Zachary Quinto's Spock will Star Trek Into A Volcano. Not much to go on, but it's something.
No sign of a full trailer on the horizon quite yet, so if you really, really need a Star Trek Into Darkness fix you'll just have to pore over those three frames for a few months. Why not print them out and enjoy them as three separate but very similar promo posters? There are only three months of the year left; why not make a very limited calendar out of them? We're just full of ideas!
Star Trek Into Darkness – with all its frames – is due for release on May 17, 2013.
About The Author