McAdams and Rapace team up for Brian De Palma's Passion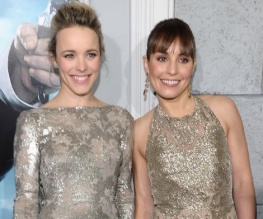 Rachel 'Boo, you whore!' McAdams has joined the cast of Carrie director Brian De Palma's erotic psychodrama Passion, which also stars her Sherlock Holmes: A Game of Shadows costar Noomi Rapace.
The film, which is being made on a $20m shoestring, is a loose remake of Alain Corneau's last film Crime d'amour. The original starred Kristin Scott-Thomas as a sadistic boss who is murdered by her put-upon employee (Ludivine Sagnier), whilst Passion will apparently feature a woman who "turns murderess when her boss steals her idea". Sounds less traumatic, but we're generally down with minimal trauma.
De Palma fans will doubtless be thrilled to see the legendary director returning to the psychological thriller genre which made his name with films like Obsession. He said: "Not since Dressed to Kill have I been able to combine eroticism, suspense, mystery, and murder into one spell-binding experience. I can't wait." This is actually quite exciting, isn't it?
About The Author