Mia Wasikowska is grubby in first trailer for Tracks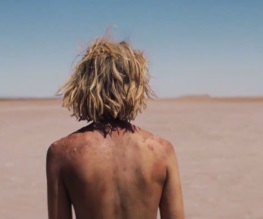 The first trailer for John Curran's let's-all-walk-across-Australia drama Tracks has arrived, and Mia Wasikowska is filthy. We mean, really grimy. Her hair's sort of stuck in this one lump, she's got mud on her face despite being in a desert, and we strongly suspect that if she ever takes a flannel to her shoulders about four layers of skin will just slough off as well. It's a mess. She's a mess. But the film looks great.
Have a watch:
Based on the true story of Robyn Davidson, a sort of genial hippy type who walked from Alice Springs (right in the middle of Australia) to the west coast in the 1970s, accompanied only by a dog and four camels. Wasikowska is, obviously, playing Davidson – we're guessing she spends most of the film on her own, although Adam Driver (of not playing Nightwing fame) will be popping up occasionally as photojournalist/occasional boyfriend Rick Smolan.
This marks the sixth attempt at filming Tracks, the book Davidson wrote about her ridiculous walk. The first five, all of which failed, are now more than 20 years in the past – the last planned film, starring Julia Roberts, was abandoned in 1993. John Curran has a reputation for slow, meticulous work – let's hope Tracks is worth waiting for. It certainly looks gorgeous, and Wasikowska's ability is not in doubt – the only real stumbling block we can see is how well (or badly) the inevitable plethora of scenes of nothing much happening are handled. We're keeping an open mind.
Tracks will be out next year (release date TBC). Will you be watching it? Let us know below!
About The Author