Michael Clarke Duncan joins Green Lantern cast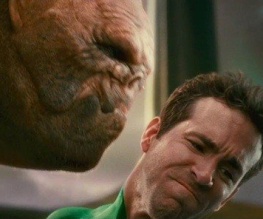 It seems a bit late for casting, but Michael Clarke Duncan has just been confirmed as the voice of a plasticky alien in forthcoming superhero carcrash Green Lantern. The Green Mile star will voice Kilowog (a name clearly dreamt up by a writer with no understanding of our colonial past), a trollish gentleman who acts as a drill sergeant for new members of the Green Lantern Corps.
That's him looking unattractive just above and to the left of this paragraph – the one looking delectable despite his grimace is Hal Jordan (Ryan Reynolds), just such a new recruit. See what we did there? Seamless. Anyway, we're sure it'll all come out in the wash – that Comic-Con footage with Geoffrey Rush's voice coming out of Tomar-Re's mad bird face was released only a fortnight after Rush started working on the film, so anything's possible. It's not enough to stop PURPLE ALIEN MAN looking shit, though, is it? No, it isn't.
Sigh.
About The Author