Mission: Impossible Trailer Leaked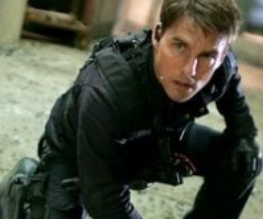 There's running. There's fighting. There's stylish falling. It's the new Mission: Impossible trailer!
Kind of. The two minute dubbed trailer has been leaked on Youtube and inadvertently heralds the release of Mission: Impossible – Ghost Protocol due late this year. We've been waiting to hear more since the film was announced, but even with the leaked footage clues about the plot are still fairly elusive. The events seem to kick off with the Kremlin being blown up, followed by some intense conversation with Tom Wilkinson – a new and very welcome addition to the MI cast – lots of impressive kicking, and this episode's big stunt… Tom Cruise jumping from the tallest building in the world, Dubai's Burj Khalifa.
After fifteen years, Mission: Impossible has cemented itself in our cinemas. We enjoyed the last three, and we will enjoy this one. The chances of it attracting a swathe of new audiences are slim, but judging by the trailer and its impressive effects, the fourth edition is shaping up to match its predecessors, and satisfy any MI fan.
Directed by Brad Bird and also starring Simon Pegg, Jeremy Renner and Paula Patton, Ghost Protocol is likely to have its official trailer released very soon, but if you just can't wait, be our guest!
About The Author