Monsters Inc prequel gets a title!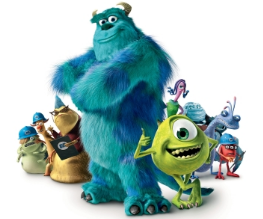 If there's a studio that can be counted on for sequels, it's Pixar. The Toy Story trilogy is uniformly brilliant (thank Zurg for that), and the more we see of Cars 2, the more excited we get. So, it's with careful optimism and a song in our hairy hearts that we tell you Monsters Inc 2 will be a prequel, by the name of Monsters University. Hurrah!
There were rumours a while back that the Monsters prequel would centre around Mike and Sully's University days, and it seems that the head honchos at Pixar are finally happy to commit to the idea. The tale will follow our favourite monsters' first meeting, subsequent rivalry and eventual friendship at the University of Fear. K-Cider, crusty socks a go go and dubious sexual exploits, we wonder?
No news as yet whether the original cast (Billy Crystal and John Goodman) are confirmed to star, but its only a matter of time. Offers from Disney/Pixar are like those from Don Corleone – the kind you can't refuse.
About The Author