Monsters University trailer is here – we wish we were monsters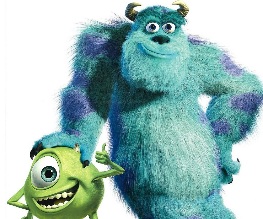 The first trailer for Monsters University has landed and it'll make your Pixar heart jump for joy. In fact, the trailer even gently reminds you that this is a film from the same people who pulled at your heartstrings with Up, Finding Nemo and Toy Story 3. Far removed from Monsters Inc, this film sees future buddies Sulley and Mike as students training to become the fully-fledged scarers we see them as in Monsters Inc. We're particularly looking forward to the Scare Games that Mike and his college pals have to enter and win or they'll be kicked out of MU. Have a look at the trailer below:
The university set-up looks brilliant, and we reckon that big kids will enjoy this movie much more than little kids. John Goodman and Billy Crystal reprise their roles as Sulley and Mike respectively, while British national treasure Helen Mirren is on board as the terrifying Dean Hardscrabble. A plethora of new characters will be popping up too- our favourites are the ditzy sounding cheerleaders who look like they'd do quite a messy job of ripping your throat out. Joel Murray, Alfred Molina and Charlie Day are also amongst the voice talent. Expect Monsters University in cinemas from July 12.
About The Author