Morgan Freeman lending his dulcet tones to Lego: The Piece of Resistance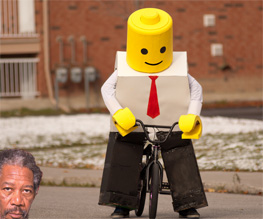 Morgan Freeman, the be-freckled, treacle-voiced, Shawshanking, "LOOK AT THESE FUCKING PENGUINS" actor of everyone's dreams has crushed our hearts by signing on to the new Lego film (it's a film about LEGO). The thing is: not only have the people behind this film – about Lego – had the audacity to make a film about Lego and cast (normally Lego-free zone) Morgan Freeman, they've also shunned ALL OF OUR SUGGESTED CONCEPTS in favour of this tripe:
"An ordinary Lego mini-figure, mistakenly thought to be the extraordinary MasterBuilder, is recruited to join a quest to stop an evil Lego tyrant from gluing the universe together."
Despite our serious concerns, however, the cast is actually shaping up to be pretty tasty. Alongside Morgan will features the vocal talents of Channing Tatum, Will Arnett, Chris Pratt and Elizabeth Banks. According to well-trusted source Brickipedia, Pratt will be taking the lead role with Tatum as LEGO Superman and Arnett as LEGO Batman (we can actually see his husky tones lending themselves nicely to what will presumably be a Bale take-off). Does this actually mean this film could be GOOD? Or are we all just slowly going insane? We don't know anymore. We just don't know.
What are your thoughts on this news? Could the Lego movie be our generation's Schindler's List?
About The Author