Mr & Mrs Christopher Nolan to produce Wally Pfister's debut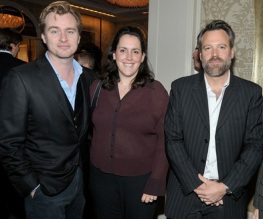 A few months ago we reported that Wally Pfister, Christopher Nolan's longtime cinematographer, was to branch out on his own and direct his first feature. Today we have learnt that, although absolutely nothing about the film has been revealed at all, Nolan and his producing partner/wife Emma Thomas are to lend their ridiculously-named pal a hand. Awww.
The untitled film is being financed by Alcon Entertainment, the studio which launched both itself and Nolan himself when it took a punt on the director's second major feature Insomnia way back in 2000. Top bods Broderick Johnson and Andrew Kosove said that "Chris and Emma, with whom we worked so closely on Insomnia, are supremely talented, as filmmakers, as collaborators, as storytellers, in all ways large and small, and we are delighted to be in business with them again[,]" which just goes to show that producers generally don't know when to hush up.
Do you know anything – ANYTHING – about this film? For God's sake tell us.
About The Author