Mystery Road loses key cast member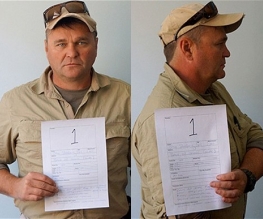 Filming began in Queensland last week for director Ivan Sen's new thriller Mystery Road. The film follows the story of a murder in the outback and stars Hugo Weaving (The Matrix), True Blood star Ryan Kwanten and, if he hadn't been captured by police on Monday, actual murderer Jonathon Stenberg.
Stenberg goes on trial today in New South Wales for allegedly murdering his neighbour Edward 'Ned' Kelly, decapitating him and leaving a hat in place of his head (which has not been found). Following the incident he fled the state in his truck, headed for the outback and, on his way through Queensland, successfully auditioned for Mystery Road and was cast as 'Policeman'.
He gave his own name and number, posed for his audition photograph and bought a cup of coffee for the assistant director, who described him as a 'really nice guy'. Despite a nationwide manhunt taking place for Stenberg, the crew entirely failed to recognize Australia's most wanted at the open auditions and decided that he was 'just one of those guys you can really trust'.
Following his audition, Stenberg headed into the outback and was eventually found in the Northern Territory living in a stealth bush camp.
Due to circumstances beyond his control, Stenberg was forced to decline the role.
About The Author