Narnia's Silver Chair will be sat upon after all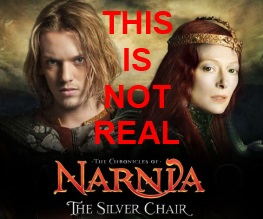 After the underwhelming performance of The Voyage of the Dawn Treader, it seemed that routes into Narnia were all closed. But apparently a way has been found, with Mark Gordon, of the Mark Gordon Company Mark Gordons, announcing that he's agreed to bring The Silver Chair to the silver screen.
The Silver Chair sees Eustace Scrub, the snotty little rag from the last one, called back to Narnia, along with newbie Jill Pole, when the two of them try to escape the evils of the schoolyard. Once there, they meet with Aslan, who sends them on a mission to find the lost prince of Narnia, the son of Eustace's old friend, King Caspian. He gives them several signs to follow on the way, which obviously they repeatedly balls up, and then blows them off a cliff and on their way.
The last time the books were adapted, the witch (for there is a witch) was played by the same actress who'd been all evil in The Lion, the Witch and the Wardrobe, which was an interesting, and not entirely appropriate casting choice. Will these guys bring back the Tilds? We don't particularly care, we just secretly want Aaron Paul to play Puddleglum.
C. S. Lewis' stepson, Douglas Gresham, is well keen; having served as a producer on the previous three films, he's quoted as saying he's "looking forward" to the next trip through the wardrobe (except it's a wall, in this case). Strong words, Doug. Strong words.
Whatever your feelings on the heavy-ass Christian metaphors of the Narnia books, they remain adventure stories solidly in the camp of Pretty Fun. If they don't screw everything up like in Prince Caspian when, for some reason there was lots of mooning and a stupid kiss, this could be not half bad.
About The Author