Neill Blomkamp reveals his next project after Elysium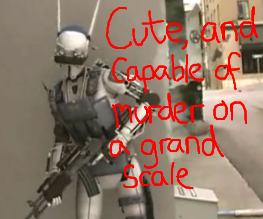 Neill Blomkamp, director and creative force behind District 9 and the upcoming sci-fi dystopian epic Elysium, has revealed a few snippets about his next project, Chappie. Based on Neill Blomkamp's short film from a few years ago, Tetra Vaal, Chappie will assuredly have rabbit-eared robots running about the place. Chappie should be stylish, funny and with Neill Blomkamp's typical flair.
Little was known of Chappie before now, but Neill Blomkamp has described it as "essentially Tetra Vaal" to the lovely folks at Den Of Geek. Thankfully the entirety of Tetra Vaal can be found on the internet, have a gander at this great little corporate marketing video.
AREN'T THEY CUTE!? Neill Blomkamp made this fun little video back in 2003. Just as District 9 was based on Neill Blomkamp's 2006 short film Alive In Joberg, Chappie should feature bunny robots galore. Sharlto Copley is reportedly going to be playing the lead… so perhaps he'll be doing motion-capture?
It'll be a few years before we get to see Chappie take form, and in the meantime we've got the impressive-looking Elysium to swoon over. For now, let's just watch Tetra Vaal on repeat to get a feel of what we can expect from Neill Blomkamp's Chappie.
Rabbit-eared robots! In South Africa! We're rather excited for Chappie. How do you feel about Neill Blomkamp's films?
About The Author