White House Down trailer is ridiculous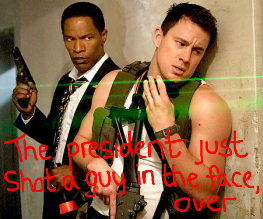 White House Down, the latest exercise in trying to get himself committed by Roland Emmerich, has gotten a 4-minute extended trailer and, well, it's something else. Featuring Jamie Foxx as a gun-wielding, rocket-shootin' President of the United States of America (GOD BLESS 'MERICA) and Channing Tatum as John McClane, White House Down looks silly, ridiculous and a lot of stupid, stupid fun. We feel a little guilty in our excitement.
Being the second "Die Hard in the White House" film this year (Olympus Has Fallen beat them to the finishing line in an explosion of mediocre confetti), White House Down already has an up-hill struggle to seem original. The trailer hasn't really helped it in this regard;
Dad with a heart of gold who can also shoot bad guys – CHECK
Teenage girl who's mad at her dad and calls him by his first name – CHECK
List of character defects that essentially says "YOU'RE TOO AWESOME" – CHECK
Crisis room with yelling- CHECK
SO MANY EXPENDABLE TERRORISTS – CHECK
Guns – Double CHECK
Elevator shaft – CHECK
Exploding plane OMG – CHECK
Despite the fact that we despise Roland Emmerich with a passion here at Best For Film, we can't help but be a little impressed with the sheer idiotic glory of White House Down.
Staring the Superstar Beef Team of Channing Tatum and Jamie Foxx, along with Maggie Gyllenhaal and Richard Jenkins (not so beefy), White House Down explodes into UK cinemas in September.
Explosions! Jokes! More explosions! White House Down has it all! What did you think of the 4-minute trailer?
About The Author