New Avengers trailer has happened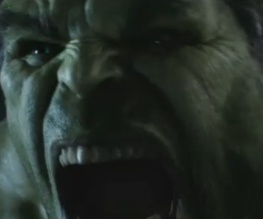 Although we thought the Superbowl had already happened, apparently it hadn't until yesterday when it finally did. Whatever, it's not a real sport. Anyway, one of the things that was organised to distract viewers from just how utterly boring American football is was a new trailer for The Avengers, which has now had so many teasers, trailers, post credit sequences and so on that we'll probably have seen the entire thing by the time it's finally released on May 4th.
Here's the new trailer:
[swfobj src="http://www.springboardplatform.com/mediaplayer/springboard/video/ci030/39/434555/" width="480″ height="268″ allowfullscreen="true"]
Hang on, does this mean the one from last week was a teaser for this trailer? We can't really follow how all this works any more. There's nothing much here that we haven't seen before – aliens smashing up New York, Avengers posing dramatically with their gear of choice (bow, exoskeleton, HAMMER) – and then HELLO TOM HIDDLESTON! We've finally got a look at Avengers-era Loki, who's a fair bit more bedraggled and evil-looking than in Thor (when he looked a bit mimsy, to be honest). And how about that one line? Throaty, menacing, everything we wanted from the lad. "I have an army…" Well fuck you, Loki – you may have an army (of Skrull, natch), and Nanni Moretti may Have A Pope, but the Avengers have a Hulk! This is far and away the best look we've got at Mark Ruffalo's Hulk, who shrugs off being hit in midair by multiple alien ships (we don't mean they shoot him, they run into him and he just wiggles a bit), and we're excited about him in a way that we simply can't bring ourselves to be about Pointless Scarlett Johansson and her pitiful pistol. Don't force us to say that this is men's work, Scarlett, because we'll hate ourselves even if we know we had to say it.
Do you have a Hulk? Nope. But what did you think of the trailer? Let us know below!
About The Author