New trailer for Battleship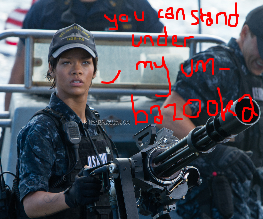 Oh God. Just when we were sure were were going to have at least one year free of Transformers, along comes Battleship and reminds us that 365 days without mindless, steel-chinned nonsense is just a wistful, crazy dream. Liam Neeson, we've given up on you, obviously, but come on, we expected better from… from… erm… Taylor Kitsch? From a board game? Oh forget it.
Watch it. We'll talk after.
Some initial thoughts:
– The point of the Battleship game, surely, is that you cannot see your nemesis. No? Intrigue through strategy and all that? Director Peter Berg's philosophy seems to do away with that namby-pamby mystery element and insists that less may be more, but more is EVERYTHING EXPLODING FOREVER
– The baddies are spiky tires. So this film is basically Rubber, but with added Megatron.
– Your serious British guy talking says "take this premise seriously", but your screaming guitar shredding says "YEAHHHHHH DEATH TO EVERYTHING MOTHERF*CKERRRR"
– "They've created a barrier. No-one can get in or out." "Well, we do have someone on the inside." "Well, who?" CUT TO RIHANNA! RIHANNA'S ON THE INSIDE, THAT'S WHO'S ON THE INSIDE! THANK GOD EARTH IS SAVED BECAUSE RIHANNA IS ON THE INSIDE!
– Taylor Kitsch is totes gonna have a punch-up with that alien on the boat, and it'll be well bad-ass because who even knows whether those aliens have elbows and stuff?
– WHO IS GOING TO BE THE ONE TO SLEEP WITH RIHANNA?
Our eyes hurt now.
About The Author