New Harry Potter trailer online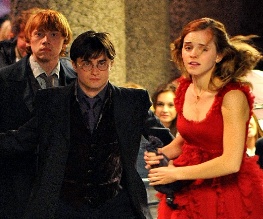 According to the trailer, it's the motion picture event of a generation – a franchise so universally successful that it's made author JK Rowling richer than Scrooge McDuck. And now, finally, the Harry Potter saga is coming to a close. Sort of. Warner Bros have released the first full trailer for Harry Potter and The Deathly Hallows Part 1 – to be released in the UK in November. Part 2 won't be hitting our screens until next summer, so for all of those who can't bear to let go of Harry and crew, you've got a bit of time yet.
So, how does the trailer look? Pretty freaking awesome, if we're honest. Dark, pacy, star-studded and fraught with peril, it looks like director David Yates is pulling out the big wands – excellent special effects, moody cheekbones (a la Twilight?) and a couple of high intensity exhanges between Harry and He Who Shall Not Be Named Himself. Take a look below, and immerse yourself in the magical world of Hazza P. We've got pretty high hopes for this one.
Will you be getting your wand out for the lads? Tell us about it…
About The Author