New Lizard images from The Amazing Spider-Man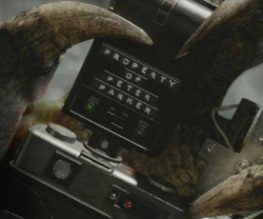 New Spider-Man images ahoy! In Tuesday's sizzling new hi-res Amazing Spider-Man poster we saw Spidey tattered and torn after a face-off with his cold-blooded foe the Lizard, and now we're getting a good look at the man/beast/Welsh person him/it/ei hun (that's Welsh for 'himself', apparently. Will you kiss us yet, Rhys Ifans?).
The two images show a squamate hand clutching a camera labelled 'Property of Peter Parker', suggesting that Curt Connors/The Lizard discovers Spidey's true identity relatively early on in their little spat, plus a blurred still of the mutated surgeon battering an unknown (but also a little green) male in what looks like Connors' underground laboratory. Could he be taking out a potential opponent who has also taken his experimental serum? We don't know, but what we do know is that after a few disappointingly nude appearances to date the Lizard is finally wearing his traditional and much-loved tattered white coat. Hurrah!
Anyway, here are the pics. Click to mutate them into massive fucking lizards enlarge:
Just makes you want to lie in the sun until your blood temperature raises to a temperature at which you can crawl around eating flies, doesn't it? See you in the cinema!
EDIT: Look, there are now EVEN MORE PHOTOS. Ever wanted to see Andrew Garfield next to an X-Ray of a (small, non-terrifying) lizard? Or Spidey trying really bloody hard to do 'Guantánamo Bay' when playing Charades with his soldier friends? Brace yourselves!
The Amazing Spider-Man is released in the UK on July 4th.
About The Author