New Narnia images online!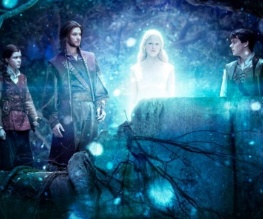 We've not heard much from team Narnia on the upcoming film Chronicles Of Narna: Voyage Of The Dawn Treader, mainly because Fox doesn't much like using viral advertising when it comes to bigging up its releases. But, the mighty fine people at Cinema Blend have posted new screenshots taken from the film, and we're happy to feed your eyes with them now!
The first shows Lucy and Edmund's cousin Eustace, who has been rather inconveniently turned into a dragon. Still, he's chilling with Reepicheep, so it's not all bad.

And the second two, well, to be honest we're not sure what's going down. But it sure looks like Lucy's having a great time with some dodgy CGI dwarves. Make of them what you will.
Voyage Of The Dawn Treader will be released in the UK on the 10th December. If we get our greasy hands on any other pictures before then, we'll throw them your way.
About The Author