New poster for Russell Brand's Hop débuts on Facebook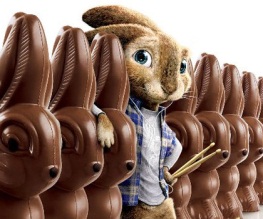 The latest offering from the director behind such classics as Garfield: A Tail of Two Kitties and the first Alvin and the Chipmunks movie, Tim Hill's Hop posits what a tradition-defying Easter Bunny might be like as a houseguest.
Not a giant leap from the aforementioned Alvin, which also saw a slacker inherit animated tenants, Hop will similarly teach Bunny and Bum alike just what it means to grow up and compromise. If the first poster (via Bleeding Cool) for the movie is anything to go by, however, Hop will not be without its hare (sorry) share of hilariously wacky shenanigans.
With Russel Brand voicing the holiday rabbit and James Masters playing the lazy – yet no doubt wholesome – loaf, Hop will co-star Kaley Cuoco, Elizabeth Perkins and Hugh Laurie. Boasting a script from Cinco Paul, Ken Daurio and Brian Lynch – and produced by Despicable Me's Illumination Entertainment – the first poster for Hop has now been teased on the film's official Facebook page.
Depicting a drum-stick touting, earphone sporting, partially clothed rabbit complete with token comedy sidekick, the poster seems to mistake ornamentation for characterisation.
Advertising an April 1, 2011 release date, the question of authenticity must inevitably be posed. Is it too much to hope that this is some elaborate April Fool's joke? Or is Hop destined to replace hope next Easter holiday.
About The Author