New red-band trailer for The Five Year Engagement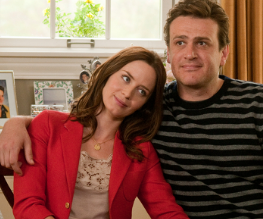 Actual, proper good rom-coms don't come along that often (the last year and a half has given us Like Crazy, Going The Distance and that's about it – apart from more seminal Katherine Heigl bollocks of course), so we're actually rather excited about The Five Year Engagement. A couple who actually seem to like each-other! What madness is this? A new red-band trailer has landed for the Emily Blunt/Jason Segel flick, and it looks grand.
It's as simple a premise as they get – a couple want to get married. Life gets in the way. Directed by Forgetting Sarah Marshall's Nicholas Stoller and penned by him and Segel, it looks like a smart, funny comedy that doesn't let its romance origins get in the way of its larks. Jason Segel faking an orgasm, some masterful facial hair and truly romantic use of the word 'vagina'; there's just nothing not to enjoy.
Seeing as it's looking like Segel wont be back about the Muppet train, it's good to know that he's still going to be frolicking all over our screens for the significant future. The Five Year Engagement hits the UK on the 22nd June. Until then, hey, One For The Money comes out on DVD soon!
About The Author