New stills from The Hunger Games: Catching Fire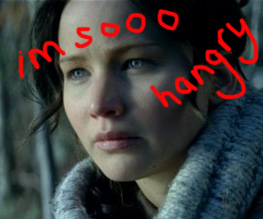 The Hunger Games: Catching Fire is coming, everyone! There's literally no escape! ARRRGH! After the worldwide success of the first film, the hotly anticipated sequel looks set to do extremely well at the box office. The bad news is that the film isn't being released in the UK until the 22nd November (we could all be DEAD by then), but the good news is that Best For Film is going to bring you all the promotional material released up until then. Seriously! Earlier this week we brought you the delicious new poster, and now we've got our dirty paws on some new stills (click to go big).
OK, so this one is a piccie of Katniss (Jennifer Lawrence), Effie Trinket (Elizabeth Banks) and Peeta (Josh Hutcherson) walking along dressed to the NINES! So fabulous. In many ways, Hunger Games could be seen as an allegory for the lives of high fashion models. Something to think about there.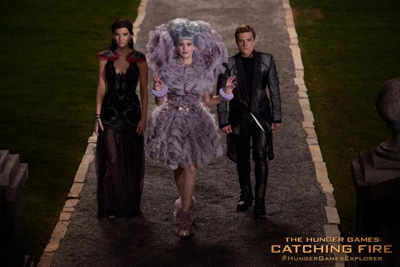 Here's Katniss and wee sister Prim (Willow Shields) hugging it out. Don't worry gals, you might be about to do battle to the death but at least your hair won't be getting in your eyes! Plaits 4 life!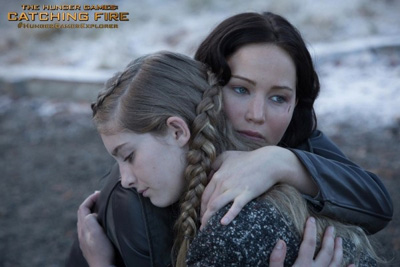 In this one, it looks very much like Philip Seymour Hoffman (playing Plutarch Heavensbee) and Donald Sutherland (reprising his role as President Snow) are deciding where to go for lunch.
"Sushi?"
"I don't really fancy sushi. What about that great new Thai place?"
"And THAT'S why you're President."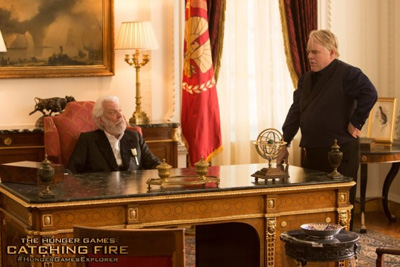 And here's Liam Hemsworth as Gale, being taken away by stormtroopers. Use the Force, Gale! You catch that fire!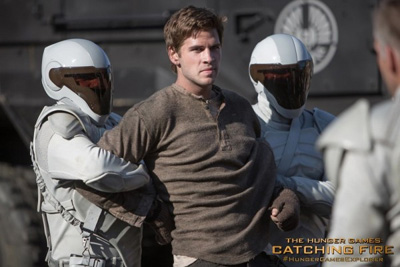 Lastly, this is a picture of Jennifer Lawrence's face. This literally could be a photo from Winter's Bone with brown hair photoshopped onto it. But who are we to judge?

Excited for Catching Fire? OF COURSE YOU ARE! WHEEEEEE!
About The Author