New Stills From War Horse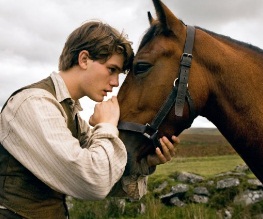 Based on the children's novel of the same name, War Horse tells the tale of… well, obviously a horse. And a war, let's not forget the war. There's nothing like a succinct title, is there? However, the story at the heart of it all is one of friendship, looking at the unbreakable bond between a young man (Jeremy Irvine) and that same horse.
Steven Spielberg is directing, making this the first ever of his films to be digitally edited post-production. The cast is crammed with stars, including Emily Watson, Benedict Cumberbatch and David Thewlis to name but a handful. Quite honestly, it looks like this is set to be one of the must-see movies of 2012… stellar effects, fab acting and a horse to go all gooey-eyed over. How could we not love this?
There's a huge sense of scale to this project, as you can see from the photos below. We know Spielberg can rock a good war movie (see Saving Private Ryan for more details) and that he knows how to make a story completely animal-based a winner (erm, Jaws anybody?). However, with months to go until we see the finished project, we'll just have to enjoy the photos for now…
Steven Spielberg gets down and dirty on the set of War Horse.
We told you that War Horse might, just possibly, feature a horse. Here it is, going mental…
Emily Watson and Jeremy Irvine bond whilst baking. He looks shocked about this. We can't wait to see this storyline develop further…
Steven Spielberg and Jeremy Irvine seem to be getting along well on set. Bless them.
Unbreakable bond between man and horse, as promised. Oscar-worthy, anyone? Remember Seabiscuit; horses make for award success!
About The Author