New Super poster now online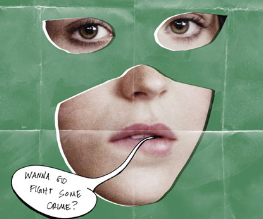 For those who have yet to see the Super trailer, before anything else go here and watch it. It's lovely. Sure it (and the poster below) looks a bit like it's treading on the toes of Kick-Ass and Scott Pilgrim, but as long as we're laughing we're not too fussed.
Super follows the mental breakdown of a middle-aged man (Rainn Wilson) whose hot wife (Liv Tyler) leaves him for a younger, more sturdy-ly jawed man (Kevin Bacon). In the midst of his grief, he decides that the only way to fight back against the injustice of it all is to become a self-made superohero. Thus, The Crimson Bolt is born. "SHUT UP, CRIME!"
The new poster featured the Bolt's side-kick Boltie; played by the ever-charming Ellen Page. Take a look:
So there's no denying that director James Gunn is pulling inspiration from recent anti-superhero hero films (Crimson Bolt/Red Mist? Even Ellen Page's tagline "Wanna go fight some crime" is a line stated by the Mist in Kick-Ass…) but it still looks like good fun. Will you be going to see it?
About The Author