New trailer for Breaking Dawn Part 2 now exists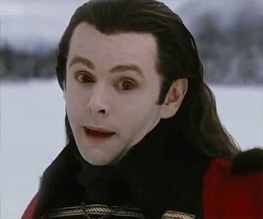 The VMAs are good for many things: helping, for instance, small, unsung acts like Rihanna and Taylor Swift parade around in various lengths of jean short for vast numbers of sobbing teenage girls while Chris Brown stamps on kittens backstage. That sort of thing. This year, though, they've outdone themselves and screened a first* (*not really) glimpse of the new Twilight film, otherwise known as The Twilight Saga: Breaking Dawn – Part Two.
It feels like a lifetime since the first part of Breaking Dawn came out, doesn't it? Since then, so much has happened. Kristen Stewart cheated on Robert Pattinson, the London Olympics came and went, people died, babies were born, all that stuff.
Anyway here's the trailer:
[swfobj src="http://media.mtvnservices.com/mgid:uma:video:mtv.co.uk:832731″ width="600″ height="336″]
OMG. Oh. My. Literal. God.
Did you see how beautiful Bella looked as a vampire, taking down that mountain lion or whatever that was? And don't even get me started on Alice's hair when she dropped that vase. Or Jacob's biceps when he's in that caramel coloured long-sleeved t-shirt that looks like he's naked? What about Dakota Fanning's eyeliner when she looked into the middle distance? Or Michael Sheen's face and body when he was pretending to be a vampire in a Twilight film? PHWOAR. Literally.
This thing is out on the 16th November 2012. Are you jazzed? We're so jazzed we could open a jazz café which screens the Twilight films all day long and never plays any jazz.
About The Author