New trailer for JGL's Premium Rush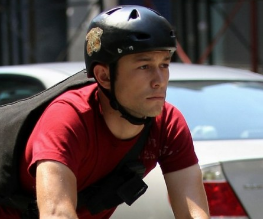 Those of you paying attention will be well aware that it's been nearly A WHOLE YEAR since the last teaser trailer for Joseph Gordon-Levitt's EXCITING BIKE FEST Premium Rush. Well, the team have finally pedalled their way back to us and have a stonking new trailer to show for it. Ready for genuinely heart-pumping bicycle action? You know you are.
JGL stars as a courier who gets mixed up in a criminal underworld after been given some Bad Shit to deliver. An innocent man just doing his job, high-octane chases, involvement with The Mob and a descent into a complex web of crime – all sounds a bit Drive, doesn't it? Maybe they could change the title to Pedal? Just a suggestion. Anyhoo, let's do this:
It's probably important to bear in mind that this is written and directed by David Koepp, the man behind the screenplays for Jurassic Park, Mission Impossible and Death Becomes Her. Thems are some good credits. On paper a CRAZY CYCLING FEST doesn't exactly sound like an action flick worth getting all juicy about, but there's no denying that this looks bloody exciting. And who doesn't love Michael Shannon on brilliant, terrifying form?
Premium Rush gets a UK release in September of this year. Get your knee-pads ready.
About The Author