New trailer for The Help now online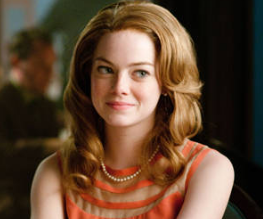 We can't help but have a bit of a soft spot for the lovely Emma Stone – star of the unexpected comic gem Easy A and new Spidey-heroine. She's got a fair few films coming out in the next few months; Spiderman, Crazy Stupid Love and Friends With Benefits to name but a few, but first now we're being treated to the first trailer for The Help.
Adapted from the best-selling book by Kathryn Stockett, The Help follows the 60s civil rights movement in the US, and a young journalist (Stone), who is disgusted by the way the black maids are treated by their employers. Determined to publish their side of the story, she decides to write up their experiences – much to the contrition of her white, middle-class friends and neighbours. The trailer is a little bizarre; full of written exposition, hundreds of bloody cuts and seems rather dangerously sentimental, but we've got faith in el Stone and her impressive supporting cast. What do you think?
The Help isn't released in the UK till October, which gives us plenty of time to read the book in order to feel smug when we go see it.
About The Author