New trailer for Vanishing on Seventh Street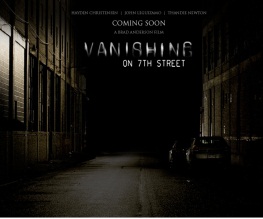 A new trailer is online for Vanishing On Seventh Street, a horror thriller from director Brad Anderson, who certainly has pedigree with Session 9 and The Machinist.
It depicts a city left empty, 28 Days Later style, with the survivors wandering amongst piles of empty clothes and cars, taking refuge in a bar as it becomes apparent that the unseen threat is intrinsically linked to the spreading darkness outside.
So what we are presented with is a mysterious threat, with a series of everyman-type characters on the run, seeking answers as the danger becomes more and more immediate. So far, so The Happening. The worry here is that The Happening was awful, taking an excellent initial idea and turning it into an unintentional comedy. If Vanishing On Seventh Street can maintain the creepy factor which is the driving force of the trailer, we could have an effective horror on our hands.
Another concern here that while Thandie Newton and John Leguizamo can generally be relied on to provide a human element to their roles and are usually fine support actors, it is worth mentioning that the lead here is taken by Hayden Christensen, whose last top-billed part was in the risible Jumper. That said, judging from the trailers he seems suitably freaked out, and we've certainly seen enough to be checking this out when it is released online in January.
About The Author