Noomi Rapace talks Sherlock Holmes 2 in audience Q&A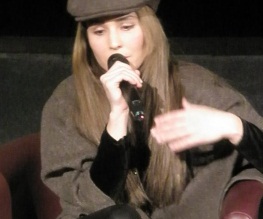 Finally settling down to watch The Girl With The Dragon Tattoo, I was surprised to find Noomi Rapace arrive to greet the audience for an informal Q&A. A combination of seasoned fans and casual movie-goers made for an interesting interaction as the franchise regular answered questions on everything from her love of Sid and Nancy, her burgeoning respect for those who pen movie subtitles, to her involvement in Guy Ritchie's Sherlock Holmes 2.
Speaking with surprising honesty about her years as 'The Girl Who Destroyed The Box Office', Rapace made it clear that while she harbours a great love for the character she played over three movies, she was not sorry to leave Lisbeth Salander behind. She admitted that with filming finished and her work over , "all the producers wanted to celebrate on the last day but I had to go to the bathroom and throw up. It felt so good to get it all out."
As such, she has nothing but respect for David Fincher and his upcoming American remake. "I felt very strongly that I was done with [Lisbeth Salander]. I was in Stockholm with all of the scars from the piercings, I looked like shit. I didn't know who I was. When I was asked about the fourth book or the remake I kept saying no, I would only be repeating myself. Then they all came back when David Fincher was announced [as director] to ask, "have you changed your mind?" No, although I respect David Fincher and I think he will do something new and exciting with it."
Good news for Guy Ritchie, who snapped her up off the back of The Girl Who Kicked The Hornet's Nest to star in his upcoming Sherlock Holmes sequel. With little known about Sherlock Holmes 2, the nostalgic atmosphere was quickly shattered by questions relating to the specifics of her role. "She is a gypsy, a world traveller who is based outside Paris but who is in London. People do not treat gypsies that well and she is born into that world, as such she is very strong. She is much more feminine than Lisbeth.
With one would-be interviewer pointing out that roles as complex as hacker Salander would be hard to come by, we still have a while to see what she does with Holmes' resident gypsy. Guy Richie's sequel is due out next December.
About The Author