New Trailer Released For The Artist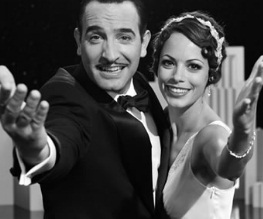 We were about to make some silly pun about how this silent movie SOUNDS brilliant, but we didn't want to risk you being sick all over us. Instead, we're happy to introduce a brand spanking new trailer for The Artist, a silent black and white which looks like it oozes Hollywood glamour from every single orifice.
What exactly is going on here? There's no robots, there's no CGI and there's nothing popping out the screen at me. In short, it's a very gutsy stab at some serious entertainment in today's world of technological obsession. And I think it might just succeed…
The story? It seems simple enough; set in 1920s Hollywood, we follow the life of silent movie star George Valentin (Jean Dujardin), brooding on the impending doom that is talking pictures, and Peppy Miller (Bérénice Bejo), a young dancer set for a big break. The Artist takes us in two different directions, following the path of both a falling and a rising star, in a world where the words fame, celebrity and talent begin to take on very different meanings.
The trailer looks absolutely magnificent, doesn't it? It seems like it beautifully evokes the lost art of silent film with opulent sets, costumes, uber-talented stars and fantastic monochrome photography. There's even rumoured to be a few modern touches to the plot, including a nightmare scene where George Valentin remains silent in a world overwhelmed with sound.
So what if it isn't due to hit UK cinemas until later this year! We're already excited thanks to the great reviews it received at Cannes… and how can you not be eager for such a breathtaking tribute to old Hollywood?
About The Author