The Deep Blue Sea will close LFF 2011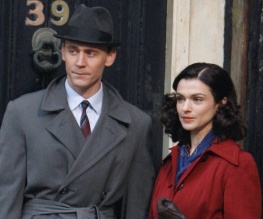 Last week we reported that Fernando Meirelles' 'psychosexual drama' 360 (which stars Anthony Hopkins, Rachel Weisz and Jude Law) would be the opening film of this year's BFI London Film Festival. We now know what'll be closing it – another Rachel Weisz film! The Mummy 4: Palace of the Dull CGI Troublemaker Who Is Also A Bit Foreign will… don't worry, we're just messing with you.
The Deep Blue Sea, an adaptation of the Terence Rattigan play of the same name by Terence Davies, will round off the annual festival. Tom Hiddleston (Thor) and Simon Russell Beale (every play you've ever wanted to see) star alongside Weisz in the drama about a privileged judge's wife who has an affair with an RAF pilot.
As if that wasn't enough, Weisz (who we honoured with a Cheat Sheet just last week) has just costarred with Bill Nighy in David Hare's new MI5 flick Page Eight, which was broadcast by the BBC this weekend (it's still on iPlayer, check it out). Page Eight will also be screening at this year's Toronto Film Festival along with 360 AND The Deep Blue Sea. Got all that? Good.
How much do you love Rachel Weisz? Yeah, us too.
About The Author